Well, we closed on our home last week. We're officially homeowners in the state of Virginia! My brain has been hyperventilating over potential projects I hope to tackle, and as I alluded to in
this
post, the kitchen is one of them.
BTW, my alter-inner voice is all, "Whoa, there, Tonto. Let's
PACE
ourselves."
The not-so-inner voice of Ben is all, "Whoa, there, Tonto, let's figure out what this is gonna
COST
."
Realities are sometimes the shitter, aren't they?
Annnnyywaaaay
....as I've been tucking away little morsels of inspiration, and focusing on all things from cabinet finishes to lighting options (we'll need some), I've noted a trend toward alternatives to recessed (i.e. "can" lighting) in kitchens.
As my astute colleague,
Bailey
pointed out recently, designer Katie Ridder is apparently a fan of eschewing can lights for a more interesting option. I concur.
Trying to figure exactly what those fixtures are. I'm sure I'm wrong, but they almost appear to be ceiling medallions with a silver-dipped bulb through them.
Something like
these
....but more fancy.
Another spying: Designer
Eric Cohler
used something similar in a sun porch at the Traditional Home Showhouse in North Carolina. (Say that sentence five times, fast!)
Ya sense a pattern, here???
via great bones, good pieces
You're welcome.
So, I did a little super-sleuthing, and found several interesting alternatives to can lights in action.
This kitchen is going for a relaxed, retro vibe. The schoolhouse-style fixtures work to that advantage.
Contemporary Kitchen
by
San Francisco Interior Designer
Angela Free Design
This kitchen really makes the point: it's about mixing it up. Focusing on tasks and choosing fixtures appropriately. It's not to say recessed lights can't serve that purpose, but that there's other, maybe more interesting ways to accomplish the goal.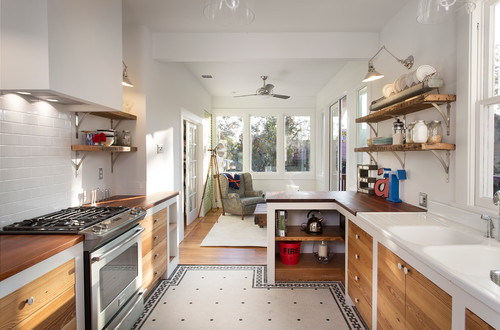 Finally, this is a situation where I'd have to say the designer went a wee bit overboard with these ginormo industrial-style lights. Is it a kitchen, or a tanning bed? They could've tucked in a couple of recessed lights, and still had a strong impact with the pendants. Just me.